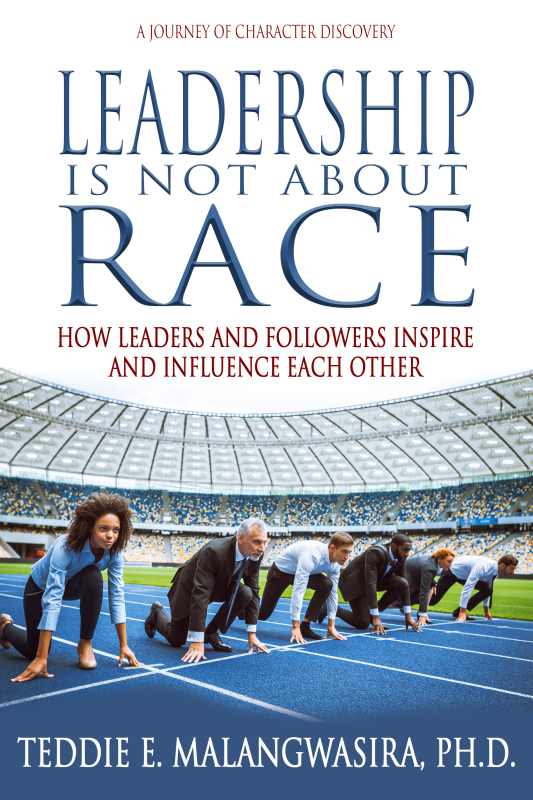 "A lot of books have been written about leadership, but this book stands out because it largely focuses on the role of followers and makes it clear there can be no leaders if there are no followers. Dr. Malangwasira also spends a lot of time clarifying what leadership is not, including false concepts of who is a leader, and he celebrates how leadership is available to people regardless of race, gender, sexual orientation, or social status. Detailed research and excellent examples make ​Leadership Is Not About Race a standout book in its field."


— Tyler R. Tichelaar, Ph.D. and Award-Winning
Author of ​Narrow Lives and ​The Best Place
"As a native of one of the least developed countries in Africa, Teddie E. Malangwasira was steadfast in his desire to further his education and move to the United States. Now with his Ph.D. in hand, Dr. Malangwasira exemplifies the qualities of a true leader in his willingness to share his knowledge and expertise in a friendly and approachable style."

— Sandra M. Piefer-Tomczak, D.D.S.,
Sheboygan Falls, Wisconsin, United States

"Teddie has written a very generous book about the intersection of race and effective leadership. Blending research with his personal story and religious faith, Teddie reminds us that we each have our own gifts, and we are made in the image of our creator who intended all of us to think critically, behave justly, and to act in the best interests of all as a human race...in short: to lead."


— Cory Bouck, Author of ​The Lens of Leadership: Being the Leader Others WANT to Follow
"If you want to become a stronger leader of all races, then immediately add this book to your library and read it often. This one-of-a-kind leadership book is a great resource that will take you to your next level of influence and beyond!"

— Patrick Snow, Publishing Coach and International
Best-Selling Author of ​Creating Your Own Destiny

"Dr. Teddie Malangwasira has done his research with this book. Drawing upon academic sources as well as political, business, and personal examples, ​Leadership Is Not About Race provides an analysis of what makes a leader. If you want to learn what it takes to be a leader, you'll find all the elements in these pages."


— Larry Alexander, M.A., and Co-Owner of
Superior Book Productions
"Working with Dr. Teddie E. Malangwasira made me understand that the best way to be a leader is by enhancing someone's skills until he/she is enabled to overcome his/hers limits and to reach the goal. Dr. Teddie E. Malangwasira is a strong-willed person who, through his book, will be able to guide you into using your best part to positively influence others."


— Vanessa Giubellini

Bibbiano, Reggio Emilia, Italy

I have just finished your lovely book Leadership Is Not About Race. It's a wonderful book.
1.  Your use of both Malawian and American examples enhances              the credibility of the book.
   2.  Use of real life examples like those of Mandela and Gandhi                   make the reader get interested in the way you are developing             the theme.
​   3.
The checklists for being an effective leader and follower are very        useful and in fact sum up everything you have written in the 240        pages of the book. These are the core attributes aspiring leaders        and followers need to have.
4. On leadership expectations from society you put a very                         interesting issue of "Protect your leader" (Page 139). The                       Malawian way of protecting a leader is ring fencing him from the         outside world. He or she only listens to the views of those within         the ring and the leader becomes hard of hearing.
5. The personal application sections at the end of each chapter are         very useful for readers to reflect on what they have read.
Bravo Teddie for this wonderful book!
—​ Donald Reuben Kamdonyo, PhD, ACB, CL
Author: Poverty By Choice